Saint George Greek Orthodox Church is the realization of a dream that originated in the hearts and minds of the earliest settlers of Hellenic extraction along the north Jersey shore. Today we celebrate 89 years of perseverance, toil and dedication to the teachings of Jesus Christ as a congregation in Asbury Park, NJ, and now in our new Church Home in Ocean Township, NJ.
In 1924, a small gathering of Greek immigrants gathered to celebrate the Paschal Resurrection service in Long Branch, NJ. Residents of Long Branch, Asbury Park and Red Bank united and dedicated themselves to the common goal of forming a community and building a house of worship.
Efforts to organize a group of families and to establish a Greek church and school were first initiated in Long Branch in 1913 by the Agio Voithitiko Silogo (Auxiliary Association). The Silogo moved to Asbury Park in 1928 because the influx of new Greek families was greater in Asbury Park, and the Silogo was renamed Saint George Hellenic Community.
The first officially recorded church service by the Hellenic Community of Asbury Park was held in the basement of the Asbury Park Library on Saint Demetrios Day, October 26, 1929. Saint George was officially designated as the Patron Saint by George S. Pappayliou, the Godfather, who bestowed the church with the name 'Saint George Greek Orthodox Community and Church of Asbury Park.'
The community purchased the Interlaken Hotel on Sixth Avenue, Asbury Park, which housed the church from 1937 to 1947. The parish was served by many temporary priests, but prayers for a permanent priest were answered when Reverend Spyridon Coutros was reassigned from Ohio and began his ministry at Saint George in September, 1947.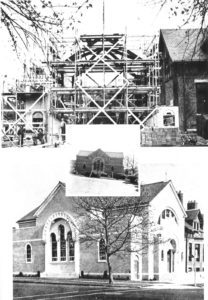 As the community flourished, the need for a church building became essential. In 1943, a committee was formed to select a site in Asbury Park for a new church. Property was purchased at 700 Grand Avenue, and in 1949 the parishioners of Asbury Park celebrated Divine Liturgy in their own house of worship, 20 years after their first official church service in the basement of the library. Property for a church cemetery was acquired in Neptune in 1954, and in 1957, Saint George Greek Orthodox Cemetery officially opened.
The church continued to prosper, and in 1963 the Philoptochos Society donated $14,000 for the construction of a cultural center. This launched an all-out drive to collect funds for an addition to our church. Ground was broken in 1965, and the building was completed the following year. The Philoptochos also initiated the start of many festivals, beginning in 1975, with a three-day festival, "A Little Bit of Greece," followed by others equally as successful in succeeding years. The ladies donated the entire proceeds from that first festival to pay the remaining mortgage obligation of the parish.
January 31, 1977, regretfully marked the retirement of our esteemed priest Reverend Spyridon Coutros, lovingly called "Pater," the community's inspirational leader for 30 years. Our current priest, Reverend Andrew Eugenis, accepted his assignment to Saint George in June, 2001 and presently serves us as our Proistamenos.
In the mid-1990's, parishioners and friends of Saint George gathered at the cemetery to dedicate an altar in memory of our beloved Father Coutros, who fell asleep in the Lord on August 15, 1992. Memorial Day services are celebrated at the altar each year.
Saint George moved the site of the annual festival to Palaia Park in Ocean Township to boost attendance from both the Greek and American communities. To raise additional funds, we leased our cultural center to the Hope Academy charter school for six years, and this proved to be a financial success.
For over twenty five years, a new Church Home was a dream and the members of our community were dedicated to making this dream a reality. A building committee was established to find a site for a future church complex in a nearby community. A tract of land on West Park Avenue in Ocean Township was recommended to the Parish Council for approval. The land was purchased, and the building fund was formed. An architect was chosen to submit plans for the new church and community center. We broke ground in the summer of 2008, and on Sunday, April 1, 2012, our community was proud and humbled to celebrate the Thyranixia, the official opening of the doors, of our new House of Worship at 1033 West Park Avenue in Ocean Township, New Jersey. This momentous celebration officially opened the doors to our long awaited new Saint George Greek Orthodox Church and its surrounding campus which includes a Cultural Center, Administration Building and Education Center, and Athletic Center.
Saint George, with its sister churches of Saint Barbara, Toms River, and Kimisis tis Theotokou, Holmdel, continue to celebrate Holy Cross Day in September. In recent years, His Eminence Metropolitan Evangelos reinstated the celebration as a statewide event, held at the Paramount Theater in Asbury Park.
The community, with the combined efforts of the many organizations of the Church, sponsor annual dances, luncheons, golf tournaments and lamb roasts to bring the community closer in a spirit of love and harmony.
In 89 years, we have come a long way. We pray that our Lord continues to grant us the wisdom, the initiative and the ability to continue to grow and nurture our Orthodoxy.
We honor, respect and are grateful to the men and women who brought the Greek Orthodox faith, culture and heritage to Asbury Park and instilled these traditions in their children. Truly extraordinary believers, their motivations have created an environment enabling the Lord's Light to shine with brilliance, illuminating the world in which we live.
We, the Community of Saint George, have overcome many obstacles. We have traveled far and through the grace of our Lord and Savior Jesus Christ, our dream of a new Church Home has become a blessed reality. It is now our responsibility to our Lord to utilize our new Home to preserve and perpetuate our Orthodox Religion, our Hellenic language and our culture.
Clergy History of St. George Church
1. Reverend John Messarchakis 1929-1930
2. Very Reverend Procopios Kaliontzis, Chancellor 1930-1931
3. Father Emmanuel Papastephanos 1931-33
4. Reverend Panos Constantinides 1931-33
5. Very Reverend Agapios Goulemis 1933-34
6. Reverend Aristides Palaynes 1934-37
7. Reverend John Petropoulos 1937
8. Reverend Nicholas Menithes 1938
9. Reverend Philemon Vlahopoulos 1938-44
10. Very Reverend Timotheos Vamvakos 1944-47
11. Archimandrite Reverend Artemios Stamatiathes 1947
12. Reverend Spyridon Coutros 1947-77
13. Reverend James Chakalos 1977
14. Reverend George Matsis 1977-80
15. Reverend John Psillas 1980-88
16. Reverend James Chakalos 1989
17. Reverend Steven Vlahos 1990
18. Reverend John Rallis 1990-95
19. Very Reverend Ambrosios Bitziadis 1996-98
20. Reverend George Xenophanes 1999-2000
21. Reverend Christ Kontos 2000
22. Reverend Andrew Eugenis 2001-
---